Discovery 1.4 AVAILABLE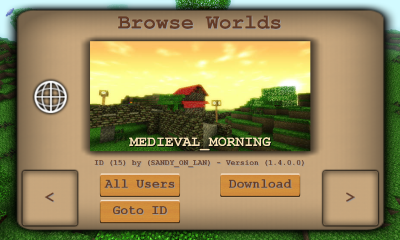 I have finally published version 1.4 of Discovery. This has been the greatest step since the initial release. Version 1.4 adds a very intuitive Cloud system to the game, which allows you to backup/upload and share your worlds with other users. Vice-versa you can browse and download the worlds of other users. This is the most important step in realizing my original idea of making a game that is based on creativity.
Everyone having the full version will automatically get a cloud account that is bound to the Windows Live ID. So if you change your phone you will be able to instantly download worlds from your cloud account. Each cloud account will initially have 3 upload slots, with each one can be set to PRIVATE (backup functionality) or PUBLIC (public sharing) mode.
Your worlds will be tagged with your account id. So other users will be able to download and modify your world. But they will not be able to upload it to the cloud under their name. This will protect your "creative rights" on your work and furthermore avoid spaming the system with multiple slightly different versions of the same world by different users.
So 'nuf said! Go get it now!
Noch kein Feedback