Discovery is coming to PlayStation®4 and Playstation®VR.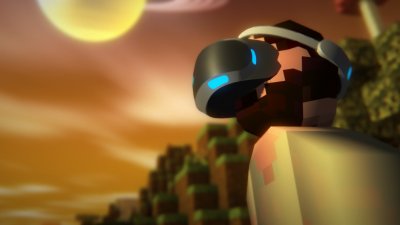 We're proud to announce that Discovery will be released on PS4 in the US on November, the 7th.
It will be available as a PlayStation Store title for $11.99.
One of the key differences of the PS4 release is that we have implemented full support for PS VR.
Jump into Virtual Reality and experience your block world as if you were there with incredible 360 degrees immersion.
Apart from that we have also implemented Online Multiplayer to the game with up to 4 players.

We're also going to release in european countries as well as in Japan (over our publisher Rainy Frog LLC).
Release dates will be published later this month.

As always, we're already working on the first update for the game that is planned to contain the following features:

- PlayStation Move support.
- Additional 3rd person view for PS VR.
- Local cooperative mode (One player at PS VR the other one on TV, split-screen).
- New materials to build with.

So get creative! We're eager to see what you will build, alone or with your friends!

To stay up-to-date with the progress on the game and the 1st update, be sure to follow us on twitter!
There you can also give us feedback on the game and especially on the PS VR experience.
P.S. In case you are a Reviewer/Blogger/Streamer and you want a DL-Code, please get in contact over twitter!
No feedback yet